The most comfortable beanbags ever.
Wherever you chill, inside or outside, at home or at work; the Terapy beanbags ensure that you fully recharge. Our beanbags are perfect for any surface, so that you can enjoy without limits.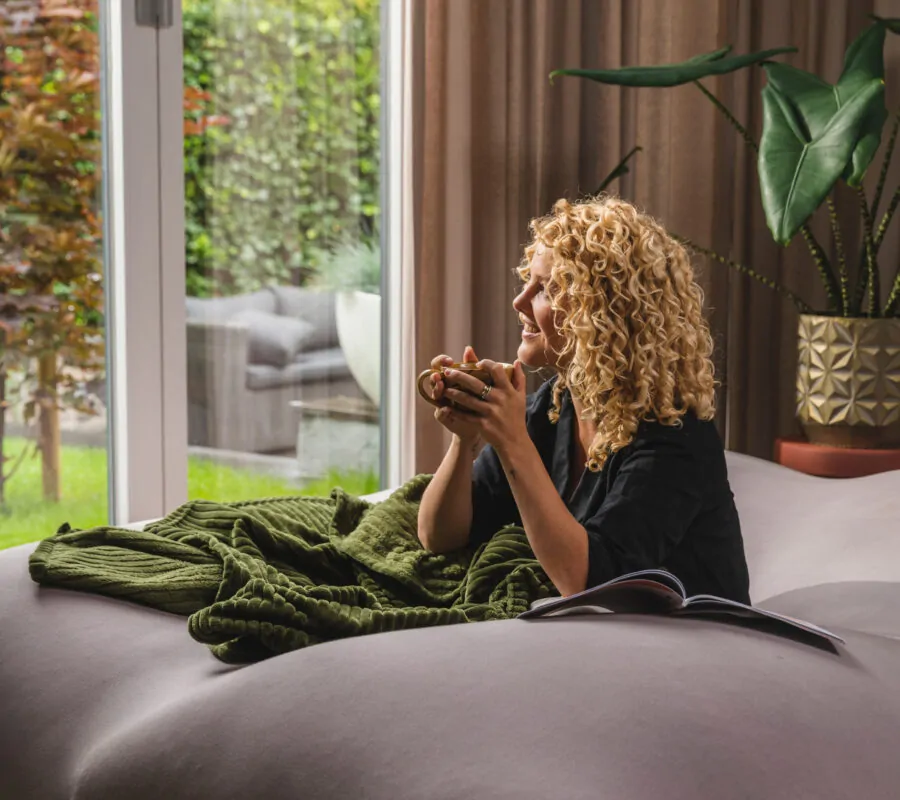 Ergonomic & comfortable bean bags
A beanbag in which you always sit well. The EPS granules in the beanbag provide a wonderfully soft feeling, but also relieve the pressure on your spine. And the stretchy cotton cover adapts completely to your body. So relax responsibly.
Recharging is key. That is why we only develop products that you can literally recharge from. Not only the most comfortable beanbags, but also the most delicious pillows, scented candles and accessories. All completely matching your style.
That's why you choose Terapy
Our beanbags adapt completely to your body, so you experience ultimate comfort.
Choose from many different colors and designs. Turn your beanbag into an eye-catcher!
Free shipping from € 500 throughout Europe
We deliver in 1-3 business days
A Terapy beanbag gives you a new experience. You have those moments when you want to relax and recharge yourself. The sofa is just too hard for this and if you sit down, your back will not get the right support. Terapy beanbags solve this. They mold themselves completely to your body, thanks to the fine EPS granules that are used as filling. Because these granules contain little air, the volume is maintained and the beanbags last longer. The covers are made of a stretchy cotton, which makes the beanbag feel wonderfully soft. So plop down and dream away! We have children's beanbags, large beanbags, lounger bags and toddler beanbags.
The cozy Terapy product names
Do you opt for a Terapy beanbag? Then you choose one of the members of the Terapy family. The Terapy product names are anything but boring. The popular Terapy beanbag Elly, the Terapy Baloo or Dino and the children's beanbag from Terapy, Sydney and Stanley. Finally, there are the Ollie, the Uli and Toby. Please feel free to click through the site and discover all members of the Terapy beanbag family! In our family you will find both beanbags for outside and beanbags for inside. View the products and order today!
Enthusiastic about Terapy's ergonomic beanbags?
We totally understand that! In addition to being wonderfully comfortable, our ergonomic beanbags are available in all kinds of colors. This means that there is a suitable beanbag from Terapy for every interior. For example, do you like calm and abstract? Then choose a neutral color such as a white beanbag or gray beanbag. Do you prefer cosiness and bright colors? Then take a look at the multicolor beanbags that are available in mixed colors.
Buy Terapy beanbag and relax!
If you are planning to buy a Terapy beanbag, you choose a type and a color and then place it in your shopping cart. Once you have entered all delivery details and the order has been placed, we will get started as soon as possible to deliver your favorite beanbag to your home, so that you can recharge as quickly as possible! Before you know it, you are no longer slumped on the couch with a sore back, but you are optimally relaxed and supported to dream away in an ergonomic beanbag from Terapy!